Who is LULOTE (BMEP)
LULOTE (Business Management Extension Programme herein after BMEP) is an organization based in Manzini, Swaziland. It was established in 1986 for the promotion of an entrepreneurial culture to both existing and aspiring entrepreneurs in Swaziland. LULOTE has the expertise to train on ILO Accredited courses that can assist empower local communities in the following areas: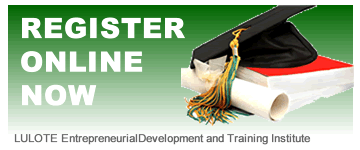 generating business ideas
 starting  new businesses or improving on existing ones
 developing business plans
 market research
 client profiling
Financial Statements 
The purpose of LULOTE is to provide business training and consultancy services in the Kingdom, to both emerging and established Swazi entrepreneurs, institutions and businesses. To prepare entrepreneurs by raising their awareness of economic issues, teaching them entrepreneurial and life skills, providing them with an understanding of the business world and enhancing their sense of personal responsibility through practical business experience.
CLICK
HERE
TO APPLY NOW FOR A COURSE